Scottish Sports Futures have been working within the heart of the Barrowfield community for the last three months, through our Shell Twilight programme. Since the easing of lockdown restrictions, SSF have been on hand within the community to offer the young people of Barrowfield the opportunity to socialise and speak about any issues or concerns which they have around the pandemic and its impact on their families and their community.
We have found that the impact of COVID-19 has actually changed the needs of the young people within communities such as Barrowfield. As such, rather than focusing purely on sport and diversionary activity, greater priority was given towards listening to young people and giving them a space to talk through their emotions and concerns brought about by the pandemic. This has been a vital element in allowing us to re-engage with young people, re-establish social networks, and essentially helping us to develop meaningful and impactful relationships with the young people within the community.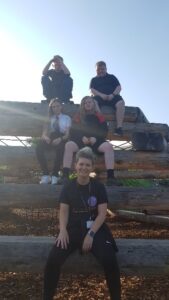 "This club actually saved me today!" – Barrowfield Young Person
During this period the SSF staff team used this time to conduct multiple consultations with young people from within the Barrowfield community, which was later used to inform programme planning and development. By consulting directly with young people, we were able to ensure that the project was person-centred and young person led. Central to everything we do is our ability to listen to and value the opinions of the young people we engage with. By putting the young people at the heart of everything we do, we are empowering them to drive what their own provision looks like, and where SSF can support their wants and needs, with the help of community partners.
"I have loved building the relationships and getting to know individuals within the community and being able to create safe spaces! I really enjoy the activity filled sessions and the laughs we have each week"                                                                   – Chanelle (SSF Sessional Worker)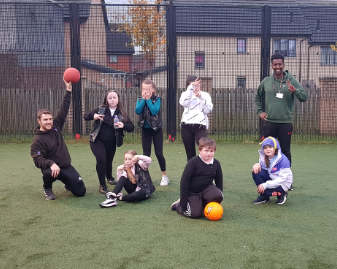 With the support of The West of Scotland Housing Association, Thriving Places, and Cashback for Communities, we have been successful in implementing SSF's Shell Twilight project within the heart of the Barrowfield community. This diversionary programme includes elements of multisport, as well as issue-based youth work, for the young people most in need of this support. In addition to this, we have also provided the young people with food and safe spaces to socialise and engage with their peers. 
Our ability to achieve these outcomes is largely down to our amazing staff team. Chanelle, Sarah, Ahmed, Chloe, and Ryan have all played a massive role in working with the young people of Barrowfield, gaining their trust and creating meaningful and impactful relationships. These staff members have worked tirelessly to ensure that the sessions are as fun and engaging as possible for the young people. They are all fantastic role models for the young people of Barrowfield and they truly represent everything that SSF stands for: providing love, care, and empathy in everything they do.
"It has been an interesting year working with the local young people, getting to know them and gaining an understanding of the range of barriers facing the community as a whole"                                                                                                                 – Ahmed (SSF Sessional Worker)
Within Barrowfield, we have used the power of sport as a social tool to engage with local young people. The youth work element of the programme support young people to develop their skills and competencies, empowering them to become more confident, happy, and healthy. SSF's track record of using a sport for change approach has played a vital role in ensuing our delivery in Barrowfield is person-centred and young person led. Our amazing staff team have been effective in providing positive role models, engaging social education, and development opportunities for the young people within the heart of the community.
SSF will continue to deliver our Shell Twilight multisport and youth work provision within this community in the long-term. We will continue working hard to develop new ideas, in partnership with the young people themselves, to tackle the issues they are facing on a daily basis.