Happy Summer! These last few months have been great for upping our active travel individually and for the organisation and we are proud to have 3 teams taking part in the Paths for All Step Challenge. It's really inspiring to be taking our own advice and leading by example and we are hugely thankful to our team members who completed the Glasgow Kiltwalk AND the Manchester, Copenhagen and Edinburgh Marathons. Huge personal achievements as well as raising vital funds for SSF! As our CEO Kirsty said, if I can run a marathon then anyone can do anything!
In staff news, we are very sad that our Head of Operations Sarah Furniss will finish up with SSF at the end of June after 6 years with the organisation. We all wish Sarah all the very best in her adventures round the world and starting up as a consultant, we will no doubt be calling upon her services again!
It's exciting on the theme of staff changes that we welcome two new members to our management team in June, Keith and Mairi. Keith will lead on our IT operations and Mairi on Child Protection and Wellbeing.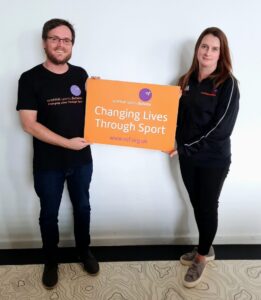 Excitingly SSF have been selected as the Callaway charity partners for the years pre-Open Championship event – The Big Bag Trail. Located in the beautiful St Andrews, our young people have been up to see the amazing bags which have been designed by 10 local school pupils. The trail is open and free for anyone to go along to do, please download the app and tag SSF across all socials!
SSF have also been selected to be charity partners for this year's Stirling Thistles Shopping Centre FREE mini golf summer event. The free event will take place throughout July and is free for all young people to attend.
Clothing Donation Drive Update
During the month of May we teamed up with Apparel Xchange to launch our first ever sports apparel donation drive! We were overwhelmed with the donations which were sent into both drop off points across Glasgow.