Sports Minister, Maree Todd MSP joined young women at Meadowbank Sports Centre in Edinburgh to mark the culmination of a successful Scottish Women and Girls in Sport Week 2023 (2nd – 8th October).
Hosted by Scottish Sports Futures to highlight the barriers still facing young women in sport, the Minister joined participants as they took part in variety of different sports including wheelchair basketball and new age curling.
The girls have attended a number of sessions throughout the year supported by the Sweaty Betty Foundation and met with the Sports Minister at last year's event.  They were presented with goody bags which included a sports bra from Sweaty Betty and Netball Scotland kit.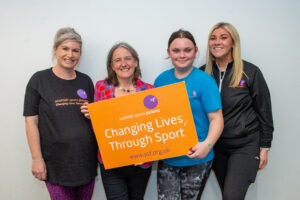 Now in its seventh year, Scottish Women and Girls in Sport Week aims to reach as many women and girls across Scotland as possible. The Week is designed to show women that whatever their age, location or life stage, there is a sport or physical activity that's right for them. Through this campaign, the hope is to help to boost their physical, mental and social health and for all women and girls to feel the benefits of being active.
The Week also provides an opportunity to promote the visibility and participation of women and girls as role models in sport and physical activity to help break down barriers and inspire women and girls to be active.
The Meadowbank event was made possible thanks to support from sportscotland, Badminton Scotland, Scottish Athletics, Basketball Scotland, and Scottish Disability Sport.
Click here to view all of the photos from the day!